08/24/2021

New Board Officers Appointed & CEO Confirmed
JACKSONVILLE, FL - During an August 23, 2021 special meeting of the Jacksonville Housing Authority and Brentwood Park Apartments Association, LTD., the Board of Commissioners appointed new officers and confirmed Dwayne Alexander to the position of Chief Executive Officer (CEO) and President of the affordable housing agency.
Christopher Walker assumes the position of Chair for the Jacksonville Housing Board of Commissioners. A Jacksonville commercial finance and real estate attorney, Walker brings extensive affordable housing finance experience to the Board. Walker practices with Lippes Mathias Wexler Friedman, L.L.P., a full-service, national business law firm with offices in Jacksonville, Florida, as well as in major U.S. cities and the greater Toronto, Canada area. Walker's term on the Jacksonville Housing Board of Commissioners continues through September 2025.
"It is an honor and privilege to serve as Chair of the Jacksonville Housing Board of Commissioners. I look forward to working with other Commissioners to drive Jacksonville Housing forward and I congratulate Mr. Alexander on the Board's offer of full-time CEO," states Walker.
Appointed to the position of Vice Chair of the Board of Commissioners, Roslyn Mixon-Phillips brings experience in the field of strategic communications and outreach to the Board. Mixon-Phillips currently serves as a consultant with English EL-Enterprises, LLC and previously served 27 years as the Chief Community Officer / Director of Recreation and Community Services for the City of Jacksonville.
Harriet Brock transitions from Chair of the Jacksonville Housing Board in 2021 to serving as the Board's Secretary for the coming year. Brock previously held the position of Vice Chair and also served a previous term as Secretary for the Board. Brock is a Resident Community Organizer and serves in area ministry as a church Elder. She is active on the Resident Advisory Board and her experience as a resident of Jacksonville Housing provides valuable insight to the Board of Commissioners.
"I believe in a life of service to others. This extends to my work on the Jacksonville Housing Board of Commissioners. As a Jacksonville Housing resident and member of the Board, I can help shape the future for my community. I am thrilled that Mr. Alexander was offered the CEO position on a full-time basis. Mr. Alexander is passionate in his caring for residents. He continually works to provide the best housing and supportive services possible. Mr. Alexander's management skills motivate all around him. He sets goals with accountable guidelines for all staff, himself as well. Mr. Alexander's very fair expectations inspire the Jacksonville Housing Authority staff to do their best. In turn, the residents benefit from the dedication of the staff," Brock explained.
In addition to the newly appointed officers, additional members of the Jacksonville Housing Board of Commissioners include Anabel Fernandez; Andre Green; Charles Griggs; and Mirza Pilakovic.
During the recent special session, the Board of Commissioners also confirmed Dwayne Alexander as Chief Executive Officer and President of the affordable housing agency. Alexander has served as Interim President and CEO of the agency since May 2018. His contract as President and CEO is for a two-year, renewable term.
Experienced in all aspects of public housing and the affordable housing industry, Alexander began his professional housing career in 1995. Prior to joining Jacksonville Housing Authority, Alexander gained experience serving with four public housing agencies and two private sector property management companies.
Alexander served as the Deputy Director of the Montgomery Housing Authority in Montgomery, Alabama, He also previously served as the Deputy Executive Director and Interim Executive Director of the Southern Nevada Regional Housing Authority in Las Vegas, Nevada. Alexander also worked with the Virgin Islands Housing Authority, St. Thomas, Virgin Islands, where he served as Deputy Executive Director and Chief of Staff. He previously served as Supervisory Asset Manager for the Philadelphia Housing Authority, Philadelphia, Pennsylvania. His private sector property management experience includes work with H.J. Russel in Miami, Florida and Corpus Christi, Texas.
Alexander holds a Bachelor of Science degree from Montana Technological University of the University of Montana in Butte, Montana. Alexander, a Certified Property Manager (CPM®) holds numerous professional certifications related to the affordable housing industry and is an active member of national associations for housing and real estate professionals, including serving as President of North Florida Institute of Real Estate Management (IREM®).
"I would like to thank the Jacksonville Housing Board of Commissioners for confirming my position as full-time CEO. I look forward to continuing our work to elevate Jacksonville Housing's presence and furthering our positive impact in the community," states Alexander.
Since 1994, Jacksonville Housing has provided housing assistance for families, the elderly, and persons with disabilities in Duval, Clay, St. Johns, and Nassau counties. Jacksonville Housing has 2,881 public housing units and manages 7,868 Housing Choice Vouchers (HCV), previously Section 8 Housing Choice Vouchers, for area landlords.
The mission of Jacksonville Housing is to provide safe, clean, affordable housing and effective social services to low- and moderate-income families and individuals. The Jacksonville Housing team of dedicated employees and Commissioners in partnership with their residents, utilize accepted business principles and all available resources to improve the quality of life for all participants. They encourage employment, self-sufficiency, and, where possible, assist in the transition to other housing alternatives.
For more information on Jacksonville Housing please visit their website, www.jaxha.org.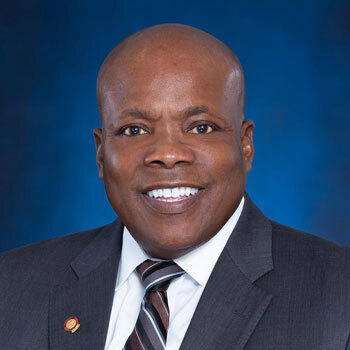 Dwayne Alexander, Jacksonville Housing President and Chief Executive Officer.
---
For Immediate Release
For more information contact:
Dwayne Alexander CPM, Chief Executive Officer
Video interviews with Mr. Alexander are welcome.
Please contact Mr. Alexander to schedule an appointment via video conference.
Direct Line: 904-630-3803 | Email Dwayne Alexander
1300 Broad Street North | Jacksonville, FL 32202 jaxha.org