10/18/2021
New Schedule - Free Tablets & Wi-Fi, Call to Register!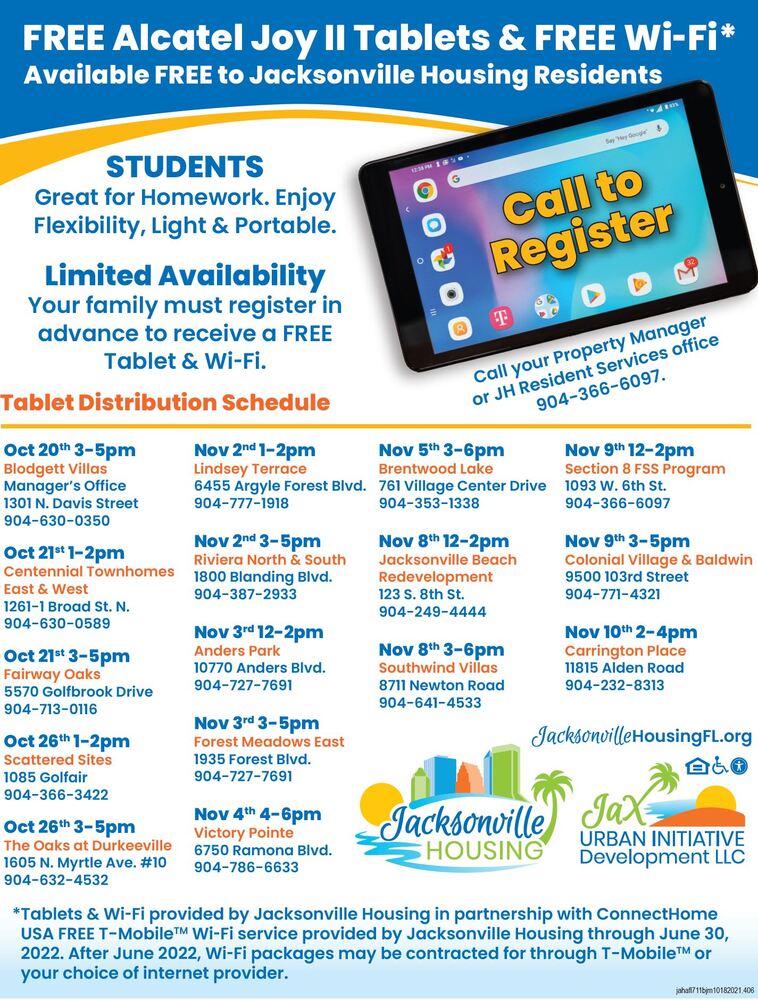 FREE Alcatel Joy II Tablets & FREE Wi-Fi*
Available FREE to Jacksonville Housing Residents
STUDENTS - Great for Homework. Enjoy Flexibility, Light & Portable.
Limited Availability - Your family must register in advance to receive a FREE Tablet & Wi-Fi.
Call to Register - Call your Property Manager or JH Resident Services office 904-366-6097.
Tablet Distribution Schedule
Oct 20th 3-5pm
Blodgett Villas
Manager's Office
1301 N. Davis Street
904-630-0350


Oct 21st 1-2pm
Centennial Townhomes East & West
1261-1 Broad St. N.
904-630-0589


Oct 21st 3-5pm
Fairway Oaks
5570 Golfbrook Drive
904-713-0116


Oct 26th 1-2pm
Scattered Sites
1085 Golfair
904-366-3422


Oct 26th 3-5pm
The Oaks at Durkeeville
1605 N. Myrtle Ave. #10
904-632-4532


Nov 2nd 1-2pm
Lindsey Terrace
6455 Argyle Forest Blvd.
904-777-1918


Nov 2nd 3-5pm
Riviera North & South
1800 Blanding Blvd.
904-387-2933


Nov 3rd 12-2pm
Anders Park
10770 Anders Blvd.
904-727-7691


Nov 3rd 3-5pm
Forest Meadows East
1935 Forest Blvd.
904-727-7691


Nov 4th 4-6pm
Victory Pointe
6750 Ramona Blvd.
904-786-6633


Nov 5th 3-6pm
Brentwood Lake
761 Village Center Drive
904-353-1338


Nov 8th 12-2pm
Jacksonville Beach Redevelopment
123 S. 8th St.
904-249-4444


Nov 8th 3-6pm
Southwind Villas
8711 Newton Road
904-641-4533


Nov 9th 12-2pm
Section 8 FSS Program
1093 W. 6th St.
904-366-6097


Nov 9th 3-5pm
Colonial Village & Baldwin
9500 103rd Street
904-771-4321


Nov 10th 2-4pm
Carrington Place
11815 Alden Road
904-232-8313
*Tablets & Wi-Fi provided by Jacksonville Housing in partnership with ConnectHome USA FREE T-Mobile Wi-Fi service provided by Jacksonville Housing through June 30, 2022. After June 2022, Wi-Fi packages may be contracted for through T-Mobile or your choice of internet provider.
JacksonvilleHousingFL.org